restoration, repair, sales and on-site fabrication of state of the art aircraft instruments.
Keystone Instruments · 353 Proctor Street · Lock Haven, PA 17745
All instruments are repaired in house, on-site to assure the highest quality of workmanship.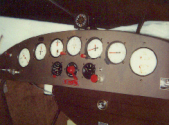 William T. Piper
Piper Cub Instrument Panel
designed and built by
Keystone Instruments




We are working hard to bring you a sample of our many different services that we offer to the airplane enthusiast. Take a look at our SALES page to see some of our pricing information and if you do not see what you need, just use our CONTACT page or give us a call. We work on all types of aircraft gauges, old and new.

Airspeeds, Verticle Speeds, Climbs, TrueAirspeed,
Test Box Airspeed, Kollsman, Pioneer, USGauge
United, Aeromarine, Stewart/Warner, Rochester, KingSeeley,
Avien,Simmonds, Honeywell, Liquidometer, and more...